April 6, 9:20a.m. – Merle Haggard, a true country music legend, has passed away of pneumonia on his 79th birthday. Minutes after learning the news, his peers, friends, family and fans (in addition to dozens of celebrities) flooded social media to pay their respects.
A legion of supporters, along with a small army of die-hard fans, expressed utter heartbreak over Facebook posts. Even to a casual observer, it became obvious that, though his legacy lives on, Merle Haggard's presence can't be replicated.
"He told us he was gonna pass on his birthday…"
Ben Haggard, Merle's son shared how "the Hag" predicted his own death over Facebook. Ben is a member of his father's band and is "proud to say we got to become best friends along the way."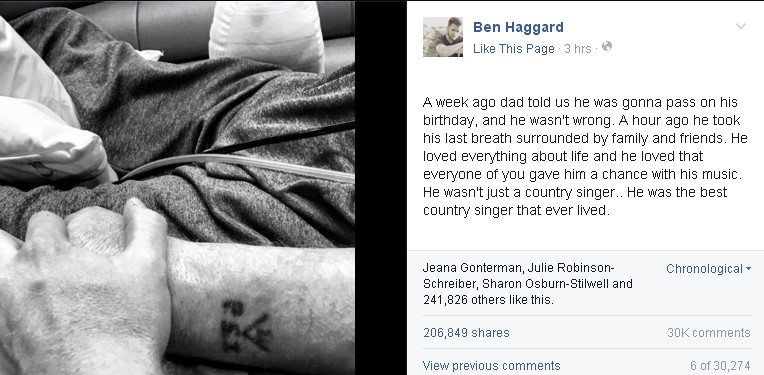 "Thank you for your life and songs."
When the tragic news broke, all of today's country music stars paid their respects. To each of them, Merle Haggard was either a dear friend, role model, mentor or all of the above.
Charlie Daniels – a legend in his own right – wrote "Country music has suffered one of the worst losses it can ever experience. Rest in peace Merle Haggard." And Carrie Underwood, the up-and-coming young country star, described him as one of the genre's grandfathers, saying:
"Merle was a Pioneer…a true entertainer….a Legend."
The list of celebrities who expressed their respect for Haggard – and love for his music – is enormous (plus, it's still growing.) Here are a few of the most memorable Tweets so far: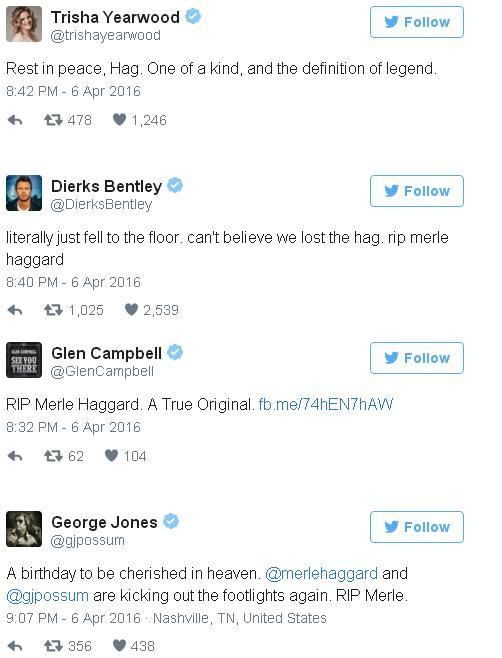 "One of a kind – the definition of Legend" – Trisha Yearwood
Aside from being a fan favorite, Merle Haggard was one of the most distinguished country music artists of all time. He was a Hall-of-Famer and a Kennedy Center Honor recipient, who held over 35 various music awards, including a Grammy.
Haggard is survived by his son, his music and an astounding legacy. Sadly, he also left behind a void that can't ever be filled by someone else.