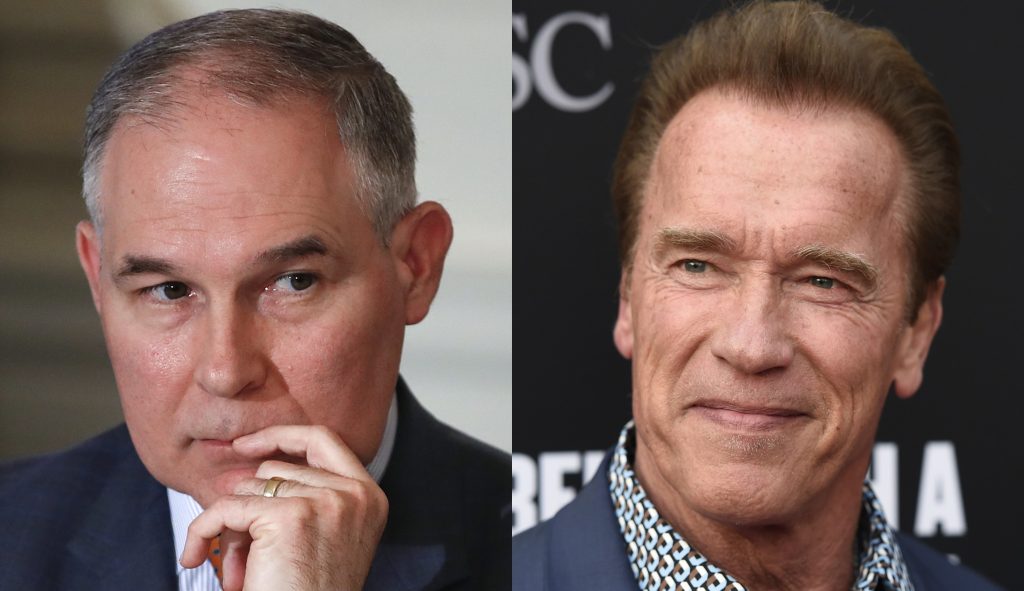 Arnold Schwarzenegger thinks Scott Pruitt is the worst U.S. environmental protection agency administrator in history. Schwarzenegger is using his celebrity platform to make sure the world doesn't follow Pruitt's lead.
"He's doing the bidding for the oil companies and the coal companies," Schwarzenegger spoke at the R20 Austrian World Summit. "I pay no attention to what he says. He cannot be taken seriously. He's the worst Environmental secretary that we have ever had."
Preventing the Environment Termination
"I'm a simple guy so I have a simple remedy when people like Pruitt ignore or hide pollution: if you don't have a problem with Americans drinking contaminated drinking water, drink it yourself until you tap out or resign," Schwarzenegger wrote on Twitter Wednesday.
Schwarzenegger's comments follow a Politico report Monday into how the EPA and the White House attempted to block the publication of the study because it would be a "public relations nightmare."
The study found that chemicals in some water supplies were harmful to human health at lower levels than the EPA previously deemed safe.
The controversy surrounding the study is another challenge facing embattled Pruitt. There are now 12 federal investigations involving Pruitt's spending, ethics, hiring, and security decisions, including one made public Tuesday.
The Hero We Deserve
Schwarzenegger, an environmental activist, is leading an effort to sue oil companies for "knowingly killing people" through the burning of fossil fuels.
The former governor has taken jabs at Pruitt before, calling him the "wrong person" for the job months earlier, and taking to social media to criticize his policies.
In the latest challenge to Pruitt's rollbacks, California is leading a coalition of states in suing the agency over its removal of fuel efficiency standards goals for automakers.
In his address, Schwarzenegger urged Trump to join him and other activists in fighting climate change, despite efforts by the Trump administration to bolster the fossil fuel industry and its withdrawal from the Paris climate accord.