What Makes Him Great
When asking who is the best NBA Coach of all time names like Phil Jackson, Pat Riley, and Red Auerbach are commonly at the top of the list. All have their accolades which are impossible to disregard. Jackson claimed 11 NBA Titles, Auerbach 9, and Riley 5 all have a strong case to be acknowledged as the best coach in the leagues history. Yet, Gregg Popovich has won 5 NBA Championships since taking over the San Antonio Spurs in 1996 and has taken the franchise to the finals on 6 occasions.
His championship success isn't the only measure of Pop's greatness, in an era of Free Agency where top talent seeks out the biggest payday, Popovich has been the main reason behind the core of the Spurs staying together. Tim Duncan, Tony Parker, and Manu Ginobili  have been the heart and soul of the Spurs since 2002, yet the pieces around them have been fluid. Which speaks heavily on how productive the system Gregg Popovich has installed in San Antonio.
…A lot depends on the competitiveness and the character of the player. Often times, I'll appeal to that. Like, I can't make every decision for you. I don't have 14 timeouts. You guys got to get together and talk. You guys might see a mismatch that I don't see. You guys need to communicate constantly — talk, talk, talk to each other about what's going on on the court. – Gregg Popovich, San Antonio Spurs Head Coach, on how he gets players to take ownership of the offense
Pop even takes time to speak to his team about the importance of work ethic and that his players are not entitled to anything.
…Because you were born to these parents or this area geographically, or this situation, you deserve more than somebody else? … That's the most false notion one can imagine…but I think a lot of people forget that. They think that they're entitled to what they have… So we talk about those things all the time. You have no excuse not to work your best. You have no reason not to be thankful every day that you have the opportunity to come back from a defeat, because some people never even have the opportunity. – Gregg Popovich, San Antonio Spurs Head Coach, speaking on work ethic and entitlement
Gregg Popovich is known to have great human skills that allow him to never yield ground when holding players and coaches accountable for their actions and responsibilities. He treats future Hall of Famer Tim Duncan the same as he does a rookie. He makes sure everyone involved remains engaged and doesn't allow excuses to get in the way of their potential.
Executing on Offense
Ball movement has been staple of the Spurs offense since Pop has been Head Coach.
As this video illustrates, the Spurs Motion Offense is a work of art. Players have believed in the system for years and it has led to the great success of the Spurs franchise.
The "Spurs Loop" is a staple of their offense which puts Tony Parker in great positions to finish plays.
Notice how dribbling is kept to a minimum and the ball continues to move.
The theme to the Spurs offense is that players must have a high basketball IQ and be unselfish. The Spurs have never been a team that that relied on Isolation's that have become paramount through the league. Pop's style of offense makes the Spurs very difficult to defend.
His Legacy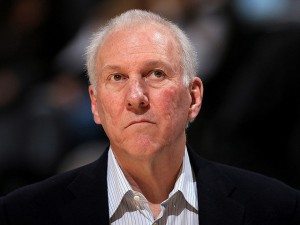 While Popovich nor his teams will go down as "exciting" to a number of fans, there is no doubt that his legacy will last throughout the history of the NBA. At a time when the league has become so player driven that coaches can be fired at the direction of certain All Stars, Popovich has preserved the mantel of coach. Gregg Popovich runs the on the court operation of the San Antonio Spurs, nobody else.
His players respect him for his knowledge, how he treats them, and his continually improving resume. If he continues on this path those close to the NBA should start consider speaking of Pop as one of – if not the best coach to ever reign over a NBA sideline.