Last weekend, some members of the anti-Donald Trump camp proved they were willing to shut down the presidential hopeful's rallies and fist fight his supporters. But after a man condemned the actions of the Dump-Trump movement, he got dumped himself.
Tee Lee, an openly-gay African American, said his boyfriend of six years broke up with him because he could no longer stand his vocal support of Trump.
The breakup happened shortly after Lee criticized protestors who forced Trump to cancel his rally in Chicago amid safety concerns.
"Keep smiling Trump supporters, the storm of thug protesters will quickly vanish," Lee Tweeted.
That was one of the last Tweets Lee made before he was single again.
He later posted, "#TrumpRally My partner for 6 years has just broken up with me, just because I support Donald Trump and his ideas. #gaysfortrump #gay #sad."
Lee, who is a resident of Trump Towers, said he has always supported the billionaire businessman.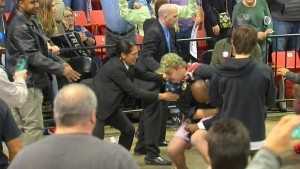 Throughout his campaign, the former reality-TV star has been stealing headlines for making controversial remarks that have sparked support and outrage from opposite ends of the political spectrum. Some of his rallies even play out like reality TV complete with shouting matches and scuffles between supporters and protestors.
The cast is just as eye-raising with some reports of Klu Klux Klan supporters popping up on the Trump side and enraged Black Lives Matters supporters raising their fists on the other.
On the day Lee announced his breakup, a self-described Bernie Sanders supporter hopped a railing and rushed toward Trump as the businessman was giving a speech in Ohio. Trump's secret service agents managed to subdue him as Trump's supporters cheered them on.
Back home in New York City, Lee's excitement wouldn't last long. Still, he's pushing forward despite ongoing criticism of his political views on social media.
One Twitter user wrote to Lee, "You're going to have a lonely life supporting Trump. I hope your hands are bigger than Trumps to take care of your lonely moments."
Lee, who has been responding to each post, had this to say: "Thank you. My life will never be lonely. I throw myself into bettering all lives. "