FBI's fight against Apple backfires after new information reveals the bureau's true intentions. And, as Obama's lack of support starts to make sense, Americans are questioning which side of the conflict should really be on trial.
It all began on Tuesday, after a federal judge ordered Apple to create software able to decrypt password-protected iPhones. The FBI (falsely) claimed they need the software to access vital information about San Bernardino shooting suspect Syed Farook.
Apple refused to comply, saying the FBI is essentially asking them to make a universal iPhone hack. The company argued that the bureau wouldn't stop at unlocking one iPhone, while making a backdoor to iOS will endanger millions of their users.
And, considering everything we've learned, Apple was right about the FBI's intentions. Unfortunately, lying to the American people is a fairly routine practice for federal agencies. Then again, this may be the first time officials lied to a judge.
FBI Has Other Options For Unlocking Farook's iPhone
Thursday, DOJ (Department of Justice) officials said Apple's stance was really just a marketing ploy. The Department accused apple CEO Tim Cook of manufacturing a way to strengthen the brand.
In response, the tech giant's executives revealed how they knew the iOS hack was never about the San Bernardino suspect's iPhone. As it turns out, Apple offered the FBI four alternative ways to unlock it. Apparently, the bureau's best tech experts couldn't successfully execute detailed directions.
On top of that, John McAfee, the founder of McAfee Software, has publicly offered his services to the FBI free of charge. Many analysts believe this to be a publicity stunt by McAfee, who is also a Libertarian presidential candidate. Nevertheless, none of them doubt that he can decrypt Farook's iPhone. Yet, the FBI seems to be ignoring the offer.
FBI Incompetence Caused Missing Data
Two days after the San Bernardino attack, the FBI asked County officers to reset Farook's iCloud password. His phone data was automatically backed up until the weeks leading up to the deadly shooting.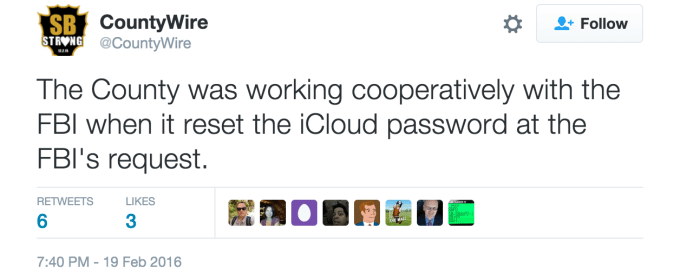 Apple complied with a warrant to provide stored data from their servers less than 24 hours earlier. So, simply asking for compliance again seems to be the logical go-to solution. The company would surely advise against the only action that could have made a back-up impossible – reseting iCloud details.
In Friday's court filing, the FBI still didn't explain why they thought doing so would help unlock Farook's phone. They claimed it probably had no effect on the investigation, saying Farook "may have" manually disabled automatic cloud storage.
Meanwhile, tech experts agree that it's more likely the iPhone would back up if two simple conditions were met. It just needed to be in range of a known WiFi network and stay steadily plugged in for 30-120 minutes. Instead, the devise remained in evidence storage until it was taken out to reset the iCloud password.
FBI Stands Alone
While the president remains silent about the issue, his actions speak louder then words. On Wednesday, Obama began assembling a new national agency – the Commission on Enhancing Cybersecurity (CEC). Ex-CEO of IBM Sam Palmisano and former National Security Advisor Tom Donilon were already named chairmen.
Whether or not the CEC has been in the works long before, announcing it in the midsts of the Apple-FBI fight couldn't be a coincidence. At the very least, it's a sign that he considers the bureau incompetent or even untrustworthy.
Oregon Senator Ron Wyden was the first government official to openly support Apple. He said that no one should be forced to do what's being asked of Apple. In a written statement, Wyden added that "businesses should comply with warrants to the extend they could," which is exactly what the company did.
The biggest surprise endorsement came from former CIA director (also  former NSA chief) Michael Hayden. He backed Apple's warning about safety in an interview for the Wall Street Journal. 
"The U.S. is simply more secure with the availability of unbreakable end-to-end encryption"
-Hayden