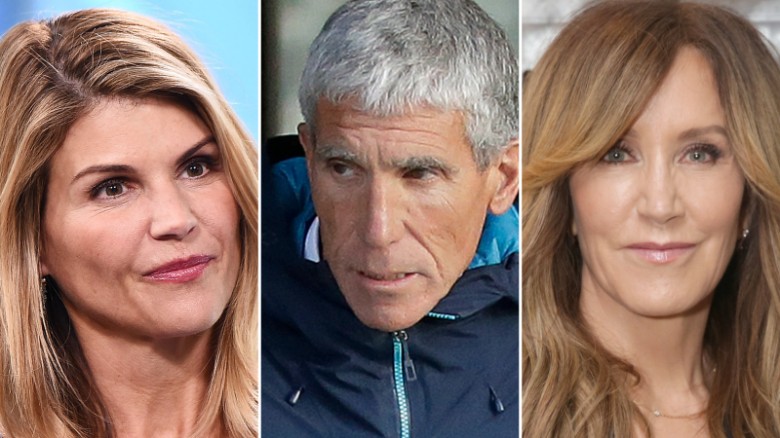 This week, the internet has been abuzz over the news that nearly 50 people—some of them fairly high-profile—were indicted in relation to a scheme to spend millions of dollars on bribes to get their children into elite colleges. Of the 33 parents who allegedly paid money to ensure admission, two of them happened to be the actors Felicity Huffman (of Desperate Housewives fame) and Lori Loughlin (from Full House). Neither have publicly commented on the allegations.
Below, we've highlighted the most pertinent points about the case, including how it was uncovered in the first place and what it actually might mean for those involved. We'll be sure to update this post as more information becomes available.
What are these people accused of doing?
This is a far-reaching case with a lot of players, but since the celebrities involved are the most recognizable, let's talk about them first. Dozens of parents, including Huffman, have been indicted by the Justice Department for spending nearly $25 million in bribes and coordinating with college coaches, exam administrators, and admissions counselors in order to get their children into schools like Stanford, Yale, Georgetown, and USC. Thirteen associates were also indicted, according to The Guardian Worst of all? According to TMZ, the kids didn't appear to know they were part of a scheme.
Huffman and her husband, actor William H. Macy, allegedly disguised a $15,000 bribe as a charitable donation in order to have their daughter participate in a scam to cheat on the SAT. They reportedly planned to make a similar "donation" for their other daughter later, but pulled out of the deal.
Meanwhile, according to the indictment, Loughlin and her husband, designer Mossimo Giannulli, allegedly paid $500,000 to get her two daughters designated as recruiters for USC's crew team, despite that fact that neither participated in the sport.
Surely they didn't coordinate this all by themselves?
Definitely not. A key person to know about in this case is William "Rick" Singer. The 58-year-old ran a college prep company called The Edge College & Career Network, also referred to as The Key, according to The New York Times, that helped facilitate much of the scheming:
The authorities said Mr. Singer, who has agreed to plead guilty to the charges and cooperated with federal prosecutors, used The Key and its nonprofit arm, Key Worldwide Foundation, which is based in Newport Beach, Calif., to help students cheat on their standardized tests, and to pay bribes to the coaches who could get them into college with fake athletic credentials.
Singer agreed to plead guilty on Tuesday of charges including racketeering, defrauding the United States, obstruction of justice, and fraud. Through The Key Singer accepted the $25 million in so-called charitable donations from parents between 2011 and February 2019. From there, he funneled money to his accomplices at the institutions in order to guarantee admissions for his rich clients' kids. He also helped prospective students cheat on their exams by having his associates take the tests in their place. Singer alleged that Huffman participated in the SAT portion of the scam.
In short: Singer ran a phony counseling service that helped wealthy parents get their children into elite schools by any means necessary, be it cheating on tests or directly bribing coaches and administrators. Racketeering!
How did prosecutors find out about this scheme?
By accident, in fact. This might be the most interesting part of an already interesting story. According to the Washington Post the massive case—which would involve 200 agents all over the country—was actually discovered through another, unrelated undercover operation.
In a story published Friday, CNN broke down some specifics. It turns out that an unrelated case against finance executive Morrie Tobin for securities fraud led to Tobin offering a tip in exchange for potential leniency. Tobin told investigators that the women's soccer coach at Yale had suggested a bribe in exchange for getting Tobin's daughter into the school. It turned out that the coach had worked with—you guessed it—Singer.
Another interesting detail: The FBI called it "Operation Varsity Blues."
What will happen to the celebrities who got named?
The Post notes that the investigation is still on-going and others could be charged. For the time being, Huffman has been arrested at her home and is in Federal custody, as has Loughlin's husband, Giannulli. There's a warrant out for Loughlin's arrest, though according to a prosecutor she is out of the country (she's been asked to return and turn herself in). She also appears to have deleted her Instagram.
For its part, USC has released a statement denying any wrongdoing. On Friday, it was reported that both of Loughlin's daughters dropped out of the school in the wake of the news.