Last Thursday, rumors of a new Harry Potter book blew up on social media after Little Brown, J. K. Rowling's publisher, announced the release date for a suggestively titled script. "Harry Potter and the Cursed Child" will be available on July 31 but, as it turns out, it won't be an actual novel. Rowling stated so herself, after Twitter was flooded with predictions from millions of die-hard fans of her award-winning series. Debates concerning the premise of the upcoming book continue to heat up but the author answered some of the most pressing questions in a series of Tweets.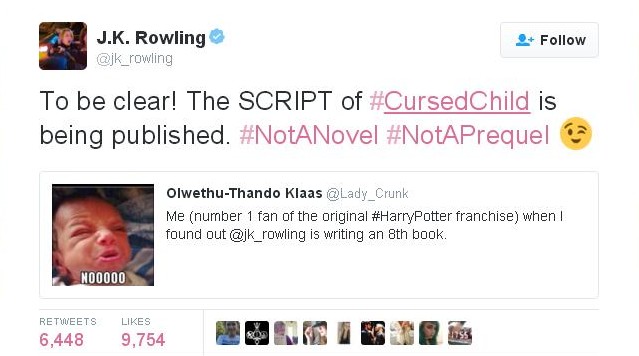 This WILL Be a New Harry Potter Book
"Harry Potter and The Cursed Child" isn't exactly a follow-up on the series, so calling it the 8th Harry Potter wouldn't be right. And, unfortunately for hopeful J. K. Rowling fanatics, it won't be a prequel either. Nevertheless, fans can rejoice in the fact that there will be a totally new book featuring their beloved characters. Since it's a script (a theater screenplay in print format), "The Cursed Child" won't be done in Rowling's usual writing style. However, we can still expect an intense story-line, vivid visualizations and all the other factors that made readers fall in love with Harry Potter.
Release Dates
The two-part play will be opening in London by the end of the summer. There's no word on whether there will be a movie in the making later on, though an independent online petition regarding the matter has already gathered 18,000 votes. "Harry Potter and The Cursed Child: Parts I & II" will be a single book that, according to the publisher, will introduce a previously-unseen antagonist and "leave nothing unresolved at the end."
Those lucky enough to be in London on July 30 can go see the play a day before the book's release. The printed script will be available on Harry's (and J.K. Rowling's) birthday. If "The Cursed Child" draws even half of the attention of Rowling's last Harry Potter novel, the rest of us will have to wait until August or camp out in front of a book store for the July 31st release.
Spoiler Alert
The play's website put out a teaser description yesterday, establishing the play's setting and hinting at the identity of the Cursed Child. It reads:
"While Harry grapples with a past that refuses to stay where it belongs, his youngest son, Albus, must struggle with the weight of a family legacy he never wanted. As past and present fuse ominously, both father and son learn the uncomfortable truth: sometimes, darkness comes from unexpected places."