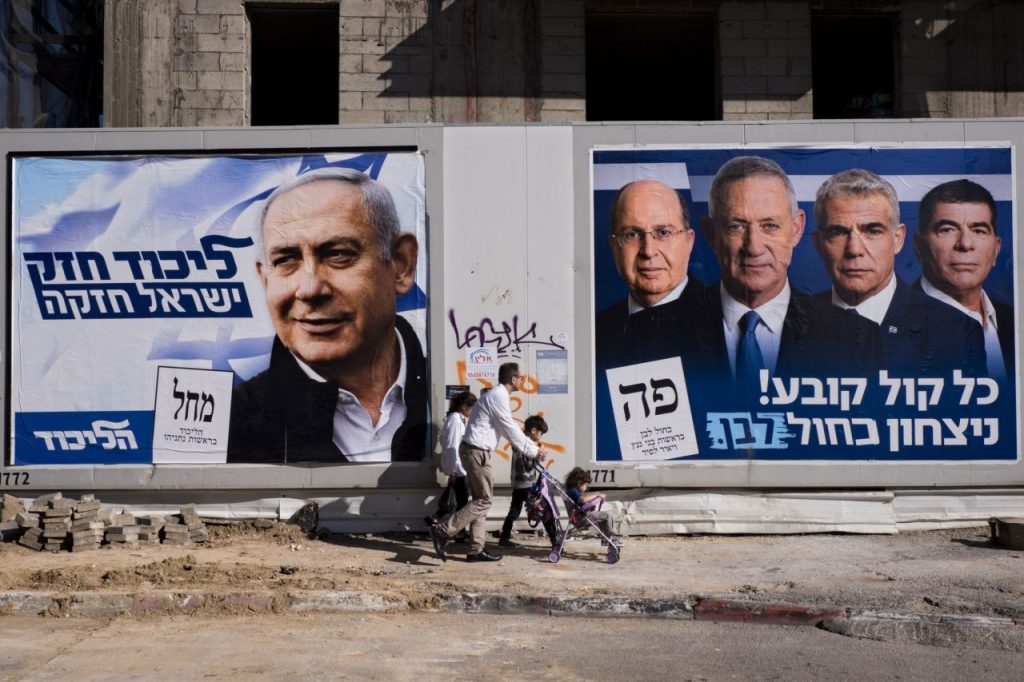 Israel's election campaign has been a three-month roller coaster of mudslinging, scandals and more scandals. But when voters head to the polls on Tuesday, one name will be predominantly on their minds: Benjamin Netanyahu.
At its core, the vote boils down to a referendum on Netanyahu, the man who has dominated Israeli politics for the better part of three decades. A victory will propel him into the record books later this year as the longest-serving Israeli prime minister, surpassing founding father David Ben-Gurion.
Different Parties, Similar Opposition
His party's only real challenger is from a newly-formed centrist alliance called Blue and White, led by Benny Gantz, who's framing himself as a Bibi without the baggage. "I think we will be able to unify the country by far more than what Netanyahu is doing right now," Gantz told in an interview.
But don't mistake Gantz for a left-wing alternative to Netanyahu's increasingly right-wing rule. At an event for English-speaking voters in Tel Aviv last week, Gantz suggested Blue and White would try to copy the prime minister's strategy, and partner with hard-line right-wing religious parties to form a governing majority.
As for the traditional left, it's been conspicuously absent from the conversation. There's a reason for that: Only 12 percent of Israelis now identify as left-wing, according to a recent survey.
For the country's last bonafide left-wing prime minister, Ehud Barak, this is a frustrating development. Barak's concerned about what the absence of a strong left has done to Israel's national politics, including the effect it's had on Netanyahu, a politician he once served beside in the army.
Barak was the last prime minister candidate to oust Netanyahu from office in 1999. But since then, Bibi has held onto power, in part by moving Israeli politics farther and farther to the right. Most recently he formed an alliance with an ultra-nationalist extremist right-wing party called Jewish Power, that was inspired by Meir Kahane, who advocated for the forced removal of Palestinians.
Now more than ever, as Israel continues to move to the right, Barak says a strong opposition is necessary to start a difficult conversation, even if they can't defeat Netanyahu's coalition.
All About Netanyahu
Though he is an MIT-educated millionaire who speaks flawless American-accented English, Netanyahu has managed to portray himself as an outsider and underdog. He claims to be persecuted by journalists, judges and other hostile "elites" in a message that endears him to his religious, working class political base.
Netanyahu's campaign has focused heavily on smearing opponents as weak "leftists," routinely claiming they are conspiring with the country's Arab parties against him. Opponents accuse him of incitement and demonizing Israel's Arab minority, which makes up roughly 20 percent of the population.
It's a formula that has worked before — and this time, he has an added Trump card.
Since taking office, Trump has given Netanyahu gift after gift, recognizing Jerusalem as Israel's capital, withdrawing from the Iran nuclear deal and cutting hundreds of millions of dollars in aid to the Palestinians.
All but endorsing Netanyahu, Trump hosted him at the White House late last month and recognized Israel's annexation of the occupied Golan Heights. Over the weekend, Netanyahu announced in a television interview that if re-elected, he would move to annex Jewish settlements in the West Bank, a step that would likely erase the last hopes of a two-state solution with the Palestinians.
Anshel Pfeffer, the Netanyahu biographer, predicted a "major showdown" with the legal branch and said Netanyahu will search for a way to dismiss the charges or pass a law granting him immunity.
"We're facing a constitutional crisis in the next few months in Israel," he said.