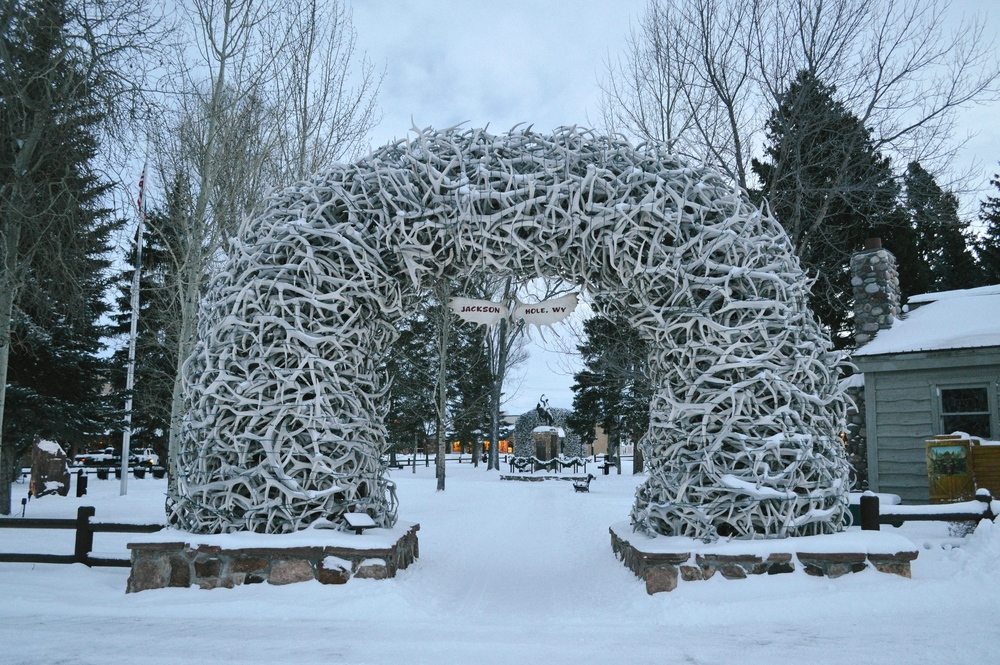 While you probably haven't thought about visiting Jackson Hole in the winter unless you're an avid skier, the area offers many amazing reasons to visit. So whether you're a winter sports enthusiast or just someone looking to have an amazing time amongst an amazing landscape, Jackson Hole is the place for you.
Jackson Hole Mountain Resort
With 2,500 acres of in-bound terrain for avid skiers and snowboarders, this mountain ranks high on the list for the best mountain in the U.S. Climbing to the top of 10,450 feet on the Aerial Tram, the views back into Jackson Hole are unlike any other. It also offers the best after skiing apres that any resort can have to offer, with multiple opportunities for shopping as well as sloshies galore (which are boozy slushies if you were wondering).
Grand Teton National Park
With massive jagged mountains peeking out above the clouds, Grand Teton National Park has everything your nature heart could ever ask for. With dramatic yet natural beauty, these infamous peaks offer opportunities for snowshoeing, cross-country skiing, and hiking all winter long. Don't have the gear you need? Be sure to stop by Jackson Hole Mountain resort for all your winter rental needs.
Yellowstone National Park
The nation's oldest and most frequented National Park is quite beautiful when draped in a blanket of snow. Only accessible by snowmobile and snow coach, an adventure filled with adrenaline and iconic sights like Old Faithful is available to all ages.
Outdoor Activities Galore
If skiing and snowboarding aren't quite your cup of tea, there are plenty of other outdoor activities you can engage in while visiting Jackson Hole. From visiting the National Elk Refuge to exploring the nearby National Parks, there is plenty of activities worth doing either solo or with the family. You can dog sled, snow tube, hike, snowshoe, snowmobile, or cross-country ski. If none of those activities sound like your thing, you can also take a sleigh ride through the refuge.
Shopping and Eats
While the middle of Wyoming is probably not your first thought as a foodie and shopping destination, Jackson Hole offers some of the most premier eats and shopping the country has to offer.
For food, you'll find everything from first-class eats at the top of the mountain at Jackson Hole Mountain Resort to an easy-going meal at Snake River Brewery. Surprisingly you'll find some top-notch Thai food here as well! As for shopping, the square offers everything from touristy to high-class finds, and the shopping at the base of the mountain won't disappoint.