Stickers are a cost-effective way for you to grow your business with the power of brand recognition. From bumper stickers to product labels, stickers are a great marketing tool to express your brand. Here's five reasons how stickers can help your brand.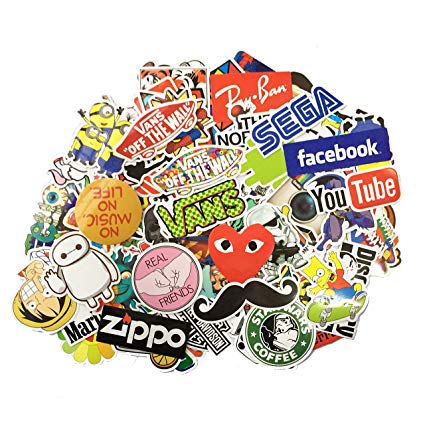 Going Viral
Starting a sticker campaign is a fast and effective way to reach thousands of people with just a handful of stickers. Multi-million dollar companies like Reddit and OBEY accredit their earliest marketing efforts to stickers.
Brand Recognition
Brand recognition is the ability for the public to identify your brand, and stickers are a great way to promote your brand, logo, website, or art. According to Gerald Zaltman, professor of Harvard business school, 95% of purchase decisions take place in our subconscious mind. Printed stickers will become a repetitive image that will increase familiarity with your product even before your customers start shopping.
Sustainable Advertising
Most weather-proof stickers will last 3-5 years in direct sunlight. Try to slap your stickers in high traffic areas where you think your target audience will be. Hand them out at stores, conventions, and influencers in your community. Here are more great places for stickers- cars, laptops, cell phones, street signs, and even product labeling.
Expressing Yourself
Communicate your style and brand with different designs, shapes, colors. There are a wide variety of stickers on the market. From custom shaped die cut stickers that conform to the shape of your art, to kiss cut sticker sheets that allow multiple designs on one page, to foil stickers that are guaranteed to make your brand shine, stickers are a valuable marketing tool necessary for any size company.
Save Money
The industry price for 1000 Bumper Stickers is 50 cents each. Here's a pro tip – give your customers a 10% discount on their next order if they put your bumper sticker on their car. Die cut stickers are custom cut stickers to the shape of your art. The average order starts well under $100. With prices like these and the ever growing popularity of stickers there is no excuse not to get some stickers for yourself.