Next to embarrassing school pictures, mug shots are pictures that you hope no one ever sees. For celebrities, we get the pleasure of seeing every drunken, high, or belligerent mistake.
Take a look at actor Nick Nolte's 2002 arrest mugshot. It is completely  obvious that he gives zero f#%@s.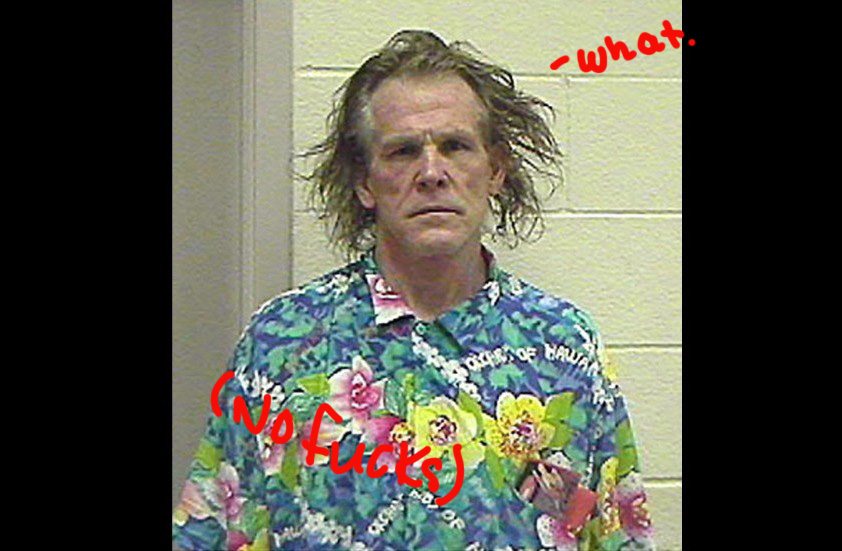 Mug shots have been around for decades. The name came from the popular slang term, mug, referring to the face.  Before social security numbers, there were no unique identifiers to tell two people apart. Mug shots were used to make sure that each arrested person could be identified from someone else.
There are three types of mug shots: the serious one, the "I messed up", and the "I'm too high to care". In all this time, not much has changed. Old mug shots are just has random and hilarious, but they have that old-timey look that tends to make pictures even funnier.
Many of the shots in this list include shaved photos of the male criminals. Back before prison reforms and reforms to how the first-world people bathe themselves, it was very easy to get lice and other critters in your hair. The hair on men were shaved to prevent spread of lice. Women, however, were not required to do the same thing.
This shaved mugshot below recently sent the Internet into a frenzy. He soon developed a small fan base of women who thought he was handsome.
Often, the stories behind the arrests are better than the pictures themselves. The stories are what make you stop and say – "How could that innocent face commit a crime?"
Here are 18 old, must-see mug shots. 
1. Esther Eggers
Esther Eggers – what a name! To be honest, her name sounds more like a super-villain out of a comic book or a Marvel movie. Even though people never smiled in pictures back then, Esther is smiling. She either does not care about getting arrested, or she is laughing at awesome her name sounds.
Esther Eggers was 22 years old in 1919. Her face may look innocent, but she is a certified badass. When she set to be arrested for inflicting the crime of "malicious damage", she attacked the police officer. Even some hardened criminals won't do that. Not only did she attack him, but she caused the police officer "grievous bodily harm". For her crime, she received this classic mugshot and a twelve month sentence in a Women's Reformatory. "Malicious damage" is property damage that was committed with malice or vindictive intent.