What Happened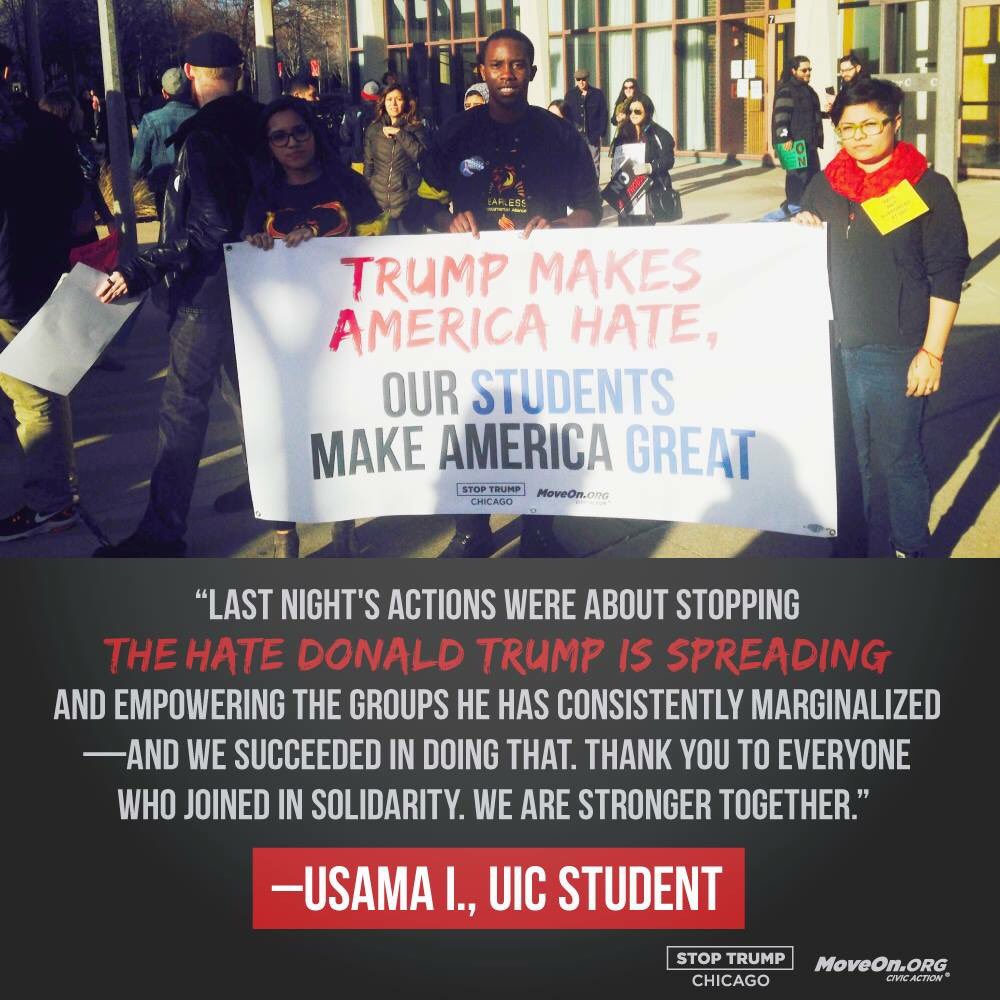 MoveOn.org planned a protest of Republican front runner Donald Trump's rally at the University of Illinois-Chicago, which ended up bringing thousands of students and protestors together at the Trump rally last night. The two opposing sides argued with one another, chanted in each other's direction, and despite some reports there were very few fights. The instances of violence were quickly broken apart in what was majorly a display of conflicting ideas.
Trump rallies have constantly seen protestors assaulted, members of the press being attacked by Secret Service, and those of darker skin complexions removed from venues for simply daring to look different from the stereotypical Trump supporter. Members of the Chicago community used their Constitutional right of protest to have their voices heard against the message of the business mogul.
Donald Trump would decide to cancel the rally in lieu of the protests, deciding it was not in his best interests to continue with the rally.
Social Media Reaction
AJ+ published a short video documenting the events and some of the reactions the event.
Protesters crash #TrumpRally, forcing Trump to postpone event over security concerns. #ChicagoStopsTrumphttps://t.co/hVnlXnfB6E

— AJ+ (@ajplus) March 12, 2016
Donald Trump Jr and Musician John Legend exchanged several tweets over the protests.
.@DonaldJTrumpJr I think they were protesting your racist father. This isn't complicated.

— John Legend (@johnlegend) March 12, 2016
While searching Twitter you can find many in solidarity with the protests while others state Donald Trump was having his freedom of speech violated. Americans have the right to assemble and the protestors were well within their Constitutional rights to protest – Trump decided to cancel the rally he was not forced to do so.
Looking Inside The Protest
After numerous documented occurrences where Donald Trump encouraged violence against protestors at his rallies, a protest of this scale had been brewing for quite some time. The protestors came from a diverse ethnic, socioeconomic,  and education background. The images coming from the protest are bountiful and speak volumes about the current conflicting views in America.
Some of the more tense images were also caught on camera showing protestors and Trump supporters shouting towards one another with only members of the media separating them.
After Donald Trump announced he was canceling the rally – Protestors rejoiced with a boisterous chant.
WATCH: Protesters chant "We stopped Trump!" after #TrumpRally canceled https://t.co/oAt9cO5yZI (Credit: Dan Gilroy) pic.twitter.com/GPsz1NkQTG

— CBS News (@CBSNews) March 12, 2016
Fascist Imagery
This woman is a human being and although I don't share her views, I start yelling "I will respect my elders. Please. Leave." and a few other great folks and I start to clear the path. I walk right up to her and say "Ma'am we have listened to you. We understand this is all a little wild but we have cleared a path for you to leave *my right hand was constantly swinging in motion, showing her the path out we made for her, as shown in the photo*"

She goes, and I quote "Go? Back in my day, you know what we did-"

Bam. Hail's Hitler. – Michael Joseph Garza, describing his experience with Birgitt Peterson
The chilling image brings back disturbing images from the past – there is no denying that Donald Trump's message brings bigotry to the forefront. While Trump did not specifically encourage his supporters to Hail Hitler, his message flocks such sympathizers to his campaign.
@SouthwestMotion @scottbix @goldietaylor @ampersandcastle She's not the only one. He was there last night too. pic.twitter.com/5HEYzNKGY8

— Anne-Jay (@Miamiborn) March 12, 2016
There were several other accounts of Trump supporters perpetrating Nazi Germany symbolism during the events – which may be commonplace for the remainder of the election cycle as Trump has a clear path to the Republican nomination. Such gestures give credence to Trump detractors to place the Fascist label upon him, likening him to Hitler and Mussolini.